The Neighborhood Leadership advanced leadership program recently graduated their third cohort of fellows.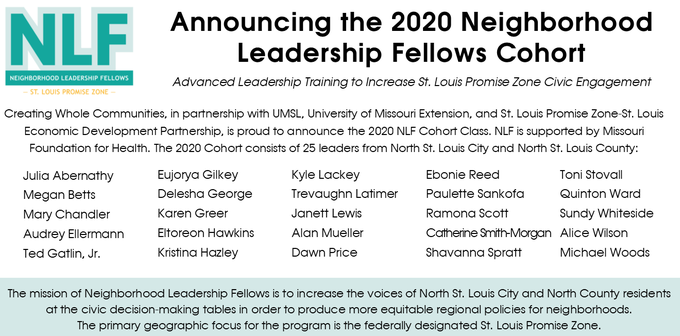 The Neighborhood Leadership Fellows advanced leadership training program, powered by a partnership between Creating Whole Communities, University of Missouri – St. Louis, University of Missouri Extension, and the St. Louis Promise Zone, graduated their third cohort of fellows on Saturday, September 12, 2020.
The graduating cohort consisted of 22 outstanding community leaders in the St. Louis region, each of whom earned their spot in the program through their unique commitment to their neighborhoods.
Individuals participate in a nine-month advanced leadership training in Partnership with UMSL Extension focused on North St Louis City and North County. This Fellowship provides hands-on workshops on policy, research, and innovation promoting equitable neighborhood development. The program also offers positional power trainings for boards, commissions, and public office. In addition participants master collaborative learning through dialogue and presentations among fellows and experts and civic mentoring from leaders and peers.
NLF's mission is to increase the voices of North St. Louis City and North St. Louis County residents at the civic decision-making tables in order to produce more equitable regional policies for neighborhoods. The primary geographic focus for the program is the federally designated St. Louis Promise Zone, and all of its participants live within the Promise Zone's boundaries.
Applications are now open for the fourth annual cohort of the program, and they will be accepted through October 5, 2020. The next program, set to convene on January 8, 2021, will meet one weekend a month, and for mini-sessions one Wednesday a month, for nine months from January through September 2021.
Residents from the Saint Louis Promise Zone are strongly encouraged to apply. All participants who are accepted and complete the program will receive a $2,000 stipend and UMSL Chancellor's Certificate in Civic Leadership.
Check out the stories of all 22 graduating members of the 2020 cohort in the 2020 Yearbook here.