IEDC webinar aims to promote solutions to take action against racism in economic development
President and CEO of the STL Partnership, Rodney Crim recently moderated an International Economic Development Council (IEDC) webinar on "The Economic Revitalization of the Over-the-Rhine Community: A Balanced Perspective." The webinar is a part of the IEDC series "Take Action Against Racism in Economic Development Webinar Series."
"Cincinnati has done an impressive job in strengthening their urban core. A great example of this is the work that has been accomplished in the Over the Rhine (OTR) community," said Crim.
"Corporations to non-profits have been working together on revitalizing the area by renovating buildings, introducing mixed-use housing, and engaging the community in innovative ways. They have also been intentional about working on solutions for the homeless and other vulnerable populations. Throughout it all, they are committed to making sure that all voices of the community are heard."
The historic Over-the-Rhine (OTR) neighborhood in Cincinnati, Ohio, experienced an urban economic revitalization after the city exploded in protests and civil unrest in 2001, after the shooting of a 19-year old unarmed African-American, Timothy Thomas, by a Cincinnati police officer. The webinar addressed the efforts to  make OTR's economic revitalization successful.
Speakers included: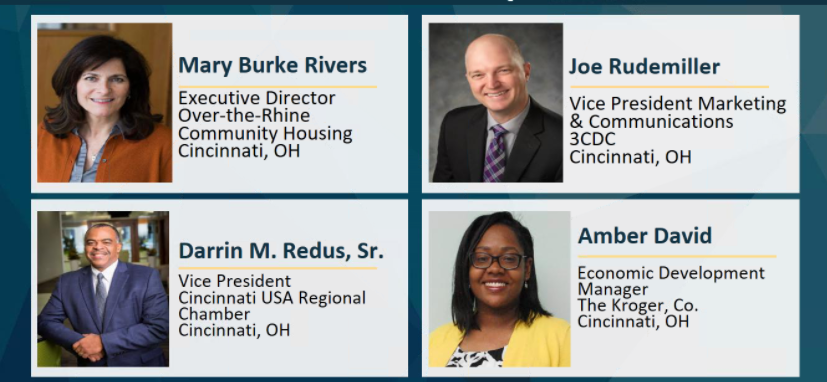 Darrin M. Redus, Sr., Vice President/Executive Director of the Minority Business Accelerator with the Cincinnati USA Regional Chamber
Amber David, Economic Development Manager with Kroger
Mary Burke Rivers, Executive Director of OTR Community Housing
Joe Rudemiller, Vice President of Marketing and Communications, of Center City Development Corporation (3CDC).
To view the webinar click here.
To download the slides to the webinar click here.