The International Economic Development Council shares St. Louis Mosaic Project 's Case Study that illustrates the ways the organization works to integrate immigrants into the St. Louis regional economy.
The International Economic Development Council (IEDC) featured the St. Louis Mosaic Project in their latest newsletter ED Now that focuses on their study called Immigration and Its Impact On Economic Development In Communities (click here for full report).
The study focused on four primary ways in which immigrants benefit economic development: filling critical workforce needs; boosting population growth and revitalization; driving entrepreneurship; and creating connections for foreign direct investment and exporting.
The St. Louis Mosaic Project Case Study
The St. Louis Mosaic Project is one of the few, if only, immigrant welcoming programs housed within an economic development organization – the St. Louis Economic Development Partnership/World Trade Center St. Louis.
It's an arrangement that makes sense. As Executive Director Betsy Cohen notes, Mosaic is a marketing program, not a service provider. It plays an important role in the attraction of foreign-owned firms and in the retention of both domestic and foreign-owned companies.
The Mosaic Project launched in 2012 in response to a report that highlighted the economic opportunity that foreign-born individuals bring to the St. Louis region, and the relatively slow growth of their numbers compared to peer communities. Unlike many other immigrant-welcoming programs, Mosaic has very specific goals: to "transform St. Louis into the fastest growing metropolitan area for immigration by 2025 and to add 25,000 foreign born to the region 2016-2025, to promote regional prosperity through immigration and innovation."

Source: Mosaic Project. The data above,  for the St. Louis MSA in 2012, helped galvanize support for starting the Mosaic Project.
A 32-member steering committee led the program's development and continues to provide guidance. (Mosaic has two full-time and one part-time staff members.) It represents (and receives funding from) organizations across the spectrum, including businesses, civic and economic development agencies, academic and faith organizations and immigrant services groups.
"In the beginning, [the project] was about learning where the resources where, what the demographics were, and what the needs were, to have vibrant services that would be an attraction for others to come here," said Cohen.
Ultimately, Mosaic's goal is to create a receptive, welcoming community that would allow foreign-born people to thrive in the region. To do that, Mosaic focused on ways to connect people to the right resources, whether those were other people, services or organizations.
Mosaic's first major initiative was the Connector Program, modeled on a successful initiative in Halifax, Nova Scotia (winner of an IEDC Gold Award for Excellence in Economic Development). The Connector Program aims to help work-authorized, foreign-born professionals connect with St. Louisans to help them feel welcome and find employment opportunities. The Connector Program has several components:
Professional Connectors: The program introduces skilled, job-seeking immigrants to local "connectors" for a cup of coffee, career networking referrals to other professionals, and job- seeking advice.

Professional Shadowing Program: Mosaic rolled out the Professional Shadowing Program in early 2020 (on Groundhog Day). The program offers work-authorized international professionals an opportunity to observe the daily working routine of a U.S. professional in their area of interest.

International Spouse Program: The International Spouse Program connects more than 400 women from 90 countries to each other for ongoing friendships and shared experiences.

International Mentoring Program: New within the last couple of years, the program has matched more than 100 international women with local mentors. Participants meet with their mentors each month for a year and form friendships to get better integrated into the St. Louis region. It has been particularly helpful to the families of executives whose companies have moved to town. (A pilot Expat Men's Club is underway to provide similar social connections for international men.)
Mosaic's Ambassador Program encourages individuals, schools, and companies to take specific actions aimed at making the St. Louis region more globally welcoming.
Individual Ambassadors: Mosaic Ambassadors, now numbering more than 850, help promote the Mosaic Project and commit to taking steps such as visiting restaurants of varying cuisines and inviting a foreign-born friend or acquaintance home for dinner or out for coffee.
Ambassador Schools: Sixty-five Ambassador Schools have committed to reinforcing an internationally welcoming and inclusive culture in ways that are unique to each school.
Ambassador Companies: Started in 2015, Mosaic now has 32 Ambassador Companies. The requirements to be an Ambassador Company vary between Silver, Gold, and Platinum levels, but all engage in actions that promote diversity and inclusion in the workplace, maintain an internationally welcoming work environment, spread awareness of the Mosaic Project, and encourage employees to become Mosaic Ambassadors.
"With the low unemployment rate, our companies really need to recruit talent, so they see it as an imperative," said Cohen.
Mosaic started an Immigrant Entrepreneur Program in recognition of the fact that foreign-born individuals in St. Louis are 60 percent more likely to start a business than the native-born. The program aims to connect immigrant entrepreneurs to the resources to start a successful business and has multiple components, including:
Immigrant Entrepreneurship Advisory Board
Neighborhood Business Entrepreneur Program
High-tech business Entrepreneurship Program
Annual Immigrant Entrepreneur award
St. Louis fellow, a local entrepreneur who works part-time with foreign-born entrepreneurs to connect them to tools and resources
Another initiative, just started in early 2020, is STL Fashion Meets, through which Mosaic aims to help foreign-born talent connect with emerging and established designers, small and growing businesses, entrepreneurs and influencers in the region's fashion industry. Mosaic continually pushes stories of immigrant businesses and profiles of their owners, particularly in industries such as fashion and food, out to the media.
And of course, the 9,000-plus international students studying at various colleges and universities in the region are great candidates to become future residents. Mosaic's Global Talent Hiring Program, like other Mosaic programs, has multiple initiatives in place to help retain some of those students, including:
Mentoring by St. Louis business leaders (often leading to internship offers)
Immigration consulting to companies regarding hiring an international student
Commitments by local universities to share information regarding hiring global talent with employers visiting their campuses
Sharing among 14 local universities of best practices for student programming that better explain courses, visas, job interviewing, etc.
April 2020 note from Executive Director Betsy Cohen:
"The region usually has about 9,000 international students through the region's many universities. While these will probably drop over the short term in terms of international students residing in St. Louis region, the many that are still in the region have a high percent of degrees in IT, Scientific, STEM, Data Analytics and other fields that will be in high demand to aid in economic recovery. In the first seven years, the low employment meant a great need for workers of all skill levels. Even with rising unemployment numbers in 2020 and forward, a high percentage of the foreign born have skills in STEM, IT, and scientific/medical fields that will be in increased demand with not enough native born talent to fill those jobs. And the service fields of health care, food service and other direct service industries are likely to depend on a high number of foreign-born workers as unemployment starts high and comes down with economic recovery."
In addition to programs for foreign-born individuals already in the region, Mosaic is part of the recruitment team that goes on trade missions and talks to international companies looking to expand or locate in St. Louis. As well, "it's the aftercare of the employees and their families, connecting them to the community, that's powerful," said Cohen.
The program's efforts clearly have had an impact. From 2017-2018, St. Louis's foreign-born population grew by 4.1 percent (5,640 people), the third-fastest rate among the U.S.'s 20 largest metros.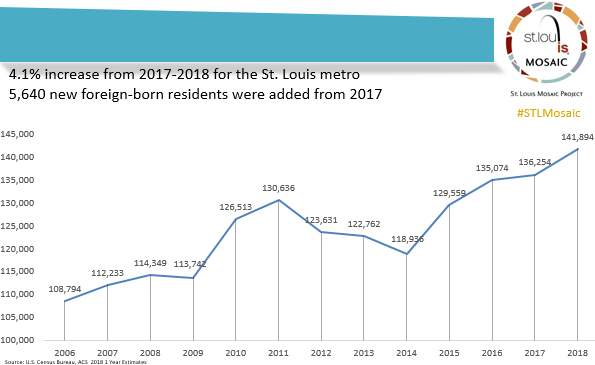 "When we started seven years ago, companies were more interested in how the program served the community as a whole," said Cohen. "Now they are saying, 'I want to be a preferred employer among the foreign-born talent pool.'" They benefit from the exposure they get through Mosaic, offering to host events and tours at their workplaces.
Cohen attributes Mosaic's success to its 200-plus community partners and to continually adding to its offerings: "We attract foreign-born individuals because we keep innovating with new programs to meet new needs, geared toward economic development through population and workforce growth."