Patriot Commercial Cleaning, more than a cleaning company
Patriot Commercial Cleaning has secured a Small Business Resource Loan through the STL Partnership and is making strides to continue to grow their business through COVID-19. The company is a service-disabled, veteran owned business that specializes in professional commercial cleaning services.
"The funding was very instrumental from the STL Partnership," said Tim Smith, CEO and President of Patriot Commercial Cleaning. "I wanted to take care of my team and the funding helped with that goal."
After serving in the U.S. Army from 2003 to 2007 and completing a tour in Iraq, Smith was honorably discharged and was having difficulty transitioning. He then attended the Brown School at Washington University in St. Louis and studied social work. While attending, he accomplished being the first Mission Continues Fellow and was a Military Scholar. In 2010, Smith decided to pursue his dream of entrepreneurship and the concept of Patriot Commercial Cleaning was established.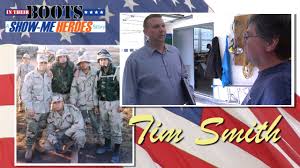 Now 90% of the team members employed at Patriot Commercial Cleaning are veterans and family members of veterans. "I want to help as many veterans as I can and giving back to the veteran population is very important to me," said Smith. "I believe veterans and family members of veterans can adapt to many situations and understand the meaning of service."
Like many other businesses, Smith is also focused on sustaining his business through COVID-19. "Due to COVID-19, companies need our services more than ever and we are focused on meeting their needs," said Smith. "We also specialize in using Super DHQ which is a hospital grade cleaner to disinfect telephones, light switches, computers, flat surfaces, etc."
As a small business owner, Smith is passionate about moving forward and continuing to thrive. "We plan to stay busy in the near future and keep expanding, said Smith. "The goal is to stay two or three steps ahead so we can always be prepared for changes."
For more information about Patriot Commercial Cleaning visit their website here.