What impact does inclusion have on the economic development of the St. Louis Region?
As part of 2021's International Institute's Festival of Nations, a virtual speaker series on inclusion in the St. Louis region kicked off on Monday, July 12th. Topics covered on how to better include foreign-born in St. Louis, entrepreneurship, mentoring, and career advice.
The panel featured:
Host, Arrey Obenson President & CEO of the International Institute St. Louis
Zellipah Githui, President, Gitzell FairTrade Intl.
Betsy Cohen, Executive Director, St. Louis Mosaic Project
Aarti Sharma, Vice President, Service Delivery–Core, Loyalty, and Digital, Mastercard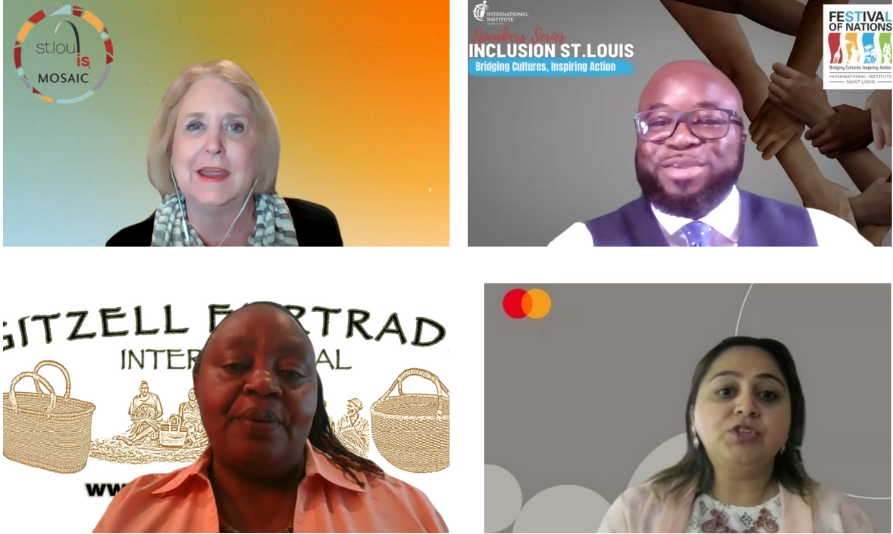 Why is the St. Louis Mosaic Project so important to the economic development of the region?
"The work that was done originally in 2012 funded by the William T. Kemper Foundation showed that our region has the opportunity to grow and that our organization will add to the economic growth, job growth, and cultural growth of the region. Some of the important data talks about our entrepreneurial community – our foreign-born community starts jobs usually at a 50%-60% higher rate than our native-born community. We know that the education and motivation of immigrants are such a powerful source to the region. Research talks about that many Fortune 500 companies were either started by immigrants or by children of immigrants – these are so important to the economics of the region. We also know that when people move to our region, they become part of the neighborhood. They contribute by purchasing goods from the neighborhood markets, they pay taxes, they keep neighborhood schools open and teachers employed. All of these things add to why the St. Louis Mosaic Project was created. We have two goals: one is to be the fastest metropolitan area by 2025, the second is to add 25,000 foreign-born people to the region between 2016 and 2025. Right now, we're struggling because we haven't had as many refugees and international students – we need them as well as the entrepreneurs and corporate executives -we need everybody as a region to be growing." – Betsy Cohen, Executive Director of the St. Louis Mosaic Project.
Click here to learn more about this year's Festival of Nations.