As STL's geospatial sector rapidly grows, the GeoFutures initiative will guide it.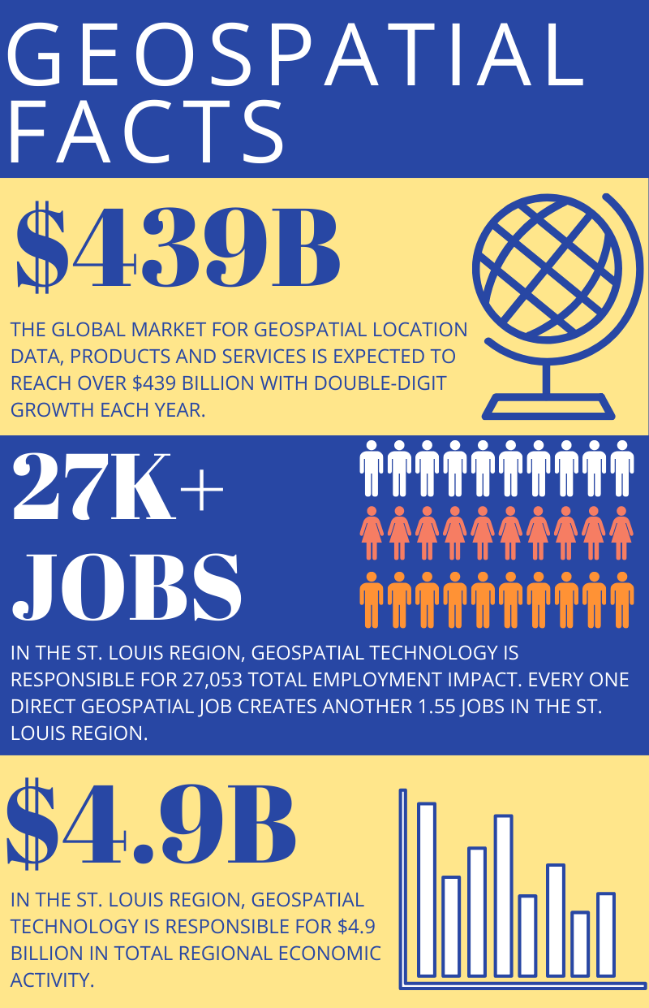 GeoFutures is a new strategic planning initiative created to bolster the region's evolving geospatial sector. The initiative is guided by an advisory committee that features a broad and diverse group of leaders from the region's public, business, civic, and academic sectors. The geospatial industry is already responsible for 27,000 jobs and nearly $5 billion in economic impact in the St. Louis region.
Andrew Dearing, President of Spatial STL Advisors and manager of GeoFutures, says this initiative is the next level of growth for the region. Collaboration between city and county government, industry and academia, and attention to racial equity are all important components in building GeoFutures.
"This effort requires collaboration to build," Dearing said. "We're taking advantage of all the talents we currently have here (in St. Louis)."
Rodney Crim, CEO and President of the St. Louis Economic Development Partnership, agrees that regional partnership is vital to GeoFutures' success.
"We are glad to be part of this regional effort," Crim said.
The new $1.7 billion Next NGA West Campus is expected to be completed by 2025. The upcoming GeoSaurus geospatial innovation resource center at T-REX reinforces St. Louis as an emerging center for geospatial excellence.
Connecting geospatial technology to St. Louis' other established economic sectors – including agriculture technology, financial technology, cyber security, and transportation logistics – provides a tremendous opportunity for future growth in the geospatial sector.
The global market for geospatial location data, products and services is expected to reach over $439 billion with double-digit growth each year. In the St. Louis region,
geospatial technology is responsible for 27,053 total employment impact and $4.9 billion in total regional economic activity. Every one direct geospatial job creates another 1.55 jobs in St. Louis region.
The full list of GeoFutures advisory committee members follows.
Zekita Armstrong Asuquo, President, Gateway Global
Aaron Bobick, Dean, McKelvey School of Engineering, Washington University
Denise Cobb, Provost & Vice Chancellor of Academic Affairs, Southern Illinois University Edwardsville
Rodney Crim, Chief Executive Officer & President, St. Louis Economic Development Partnership
Eric Druker, Principal, Booz Allen Hamilton
Bob Elfanbaum, Vice President of Innovation, World Wide Technology & Co-Founder, Asynchrony Labs
Dara Eskridge, Executive Director, InvestSTL
Mike Gourley, Senior Director, Maxar
Patty Hagen, President & Executive Director, T-REX
Jason Hall, Chief Executive Officer, Arch to Park
Stacy Hollins, Associate Professor of Information Systems, Maryville University
Steve Johnson, Chief Executive Officer, St. Louis Regional Economic Development Alliance (AllianceSTL)
Andrew Kersten, Dean, College of Arts and Sciences, University of Missouri-St. Louis
Bobbi Lenczowski, Former NGA West Executive
Emily Lohse-Busch, Executive Director, Arch Grants
Dennis Lower, President & Chief Executive Officer, Cortex Innovation Community
Brian Matthews, Co-Founder & General Partner, Cultivation Capital
Jeff Mazur, Executive Director, LaunchCode
Tara Mott, Account Manager, Esri
Pete Ofstedal, St. Louis Site Manager, Leidos
Ken Olliff, Vice President for Research, Saint Louis University
Kristin Robertson, VP & General Manager, Autonomous Systems, Boeing Defense, Space & Security
Ernest Smiley, Chief Data Scientist, Kingdom Capital
Dwayne Smith, Interim President, Harris-Stowe State University
Kate Stewart, Partner Relations, Institutional Advancement, St. Louis Public Schools
Cindy Teasdale, Executive Director, Prepare.ai
Steven Ward, Senior Director of Geospatial and Weather Sciences, The Climate Corporation
Bob Wetzel, Vice President, Corporate Development, Enterprise Holdings Ventures
Otis Williams, Executive Director, St. Louis Development Corporation